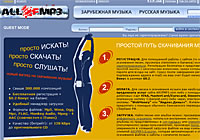 Russian prosecutors are considering filing criminal charges against a Web site that offers cheap music downloads, the music industry's global trade group has said.
The computer crimes unit of the Moscow City Police has submitted the results of its investigation into Allofmp3.com to the Moscow City Prosecutor's office on February 8, according to the London-based International Federation of the Phonographic Industry (IFPI).
Allofmp3.com and its principals are alleged to be involved in large-scale copyright infringement by offering music for sale without authorisation from rights holders in Russia and internationally.
The prosecutor has 30 days to decide whether to proceed with a criminal prosecution.
Unlike the market-leading iTunes online music store, Allofmp3.com offers music in the popular MP3 format without troubling itself with pesky digital rights management, leaving users free to copying and share files to their heart's content.
Songs are offered on the Web site for a mere 5 cents each, compared with 99 cents from most services in the United States, and the site offers music from groups like the Beatles who are famous for refusing to allow their songs to be sold online.
However, the site claims on its Web site that it's doing nothing illegal because they pay a fee to a copyright group that represents songwriters, the Russian Organisation for Multimedia and Digital Systems.
The Russian music market is ranked 12th in the world and was worth US$326.2 million in 2003.
In most countries, payments must also be made to artists and record labels, but Allofmp3 says it is exempt because of what it describes as a "loophole" in Russian law.
Igor Pozhitkov, Regional Director, IFPI Moscow says: "We have consistently said that Allofmp3.com is not licensed to distribute our members' repertoire in Russia or anywhere else. We are pleased that the police are bringing this important case to the attention of the prosecutor. We very much hope and expect that the prosecutor will proceed with this case, which involves the sale and digital distribution of copyrighted music without the consent or authorisation of the rights holders."
Allofmp3.com has apparently declined to comment.
This latest copyright wrangle is symptomatic of the global tangle of music rights, which are licensed differently in every country.
Such confusion – and the continuing availability of free MP3 files from file sharing networks continues to hinder the global roll-out of legitimate online music stores like iTunes and Napster.