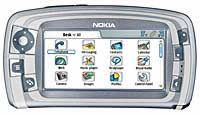 Nokia's hotly awaited new multimedia smartphone, the Nokia 7710, has started shipping in Europe and Africa.
Stuffed full of innovative design and smartarse features, the tri-band Nokia 7710 (GSM/GPRS/EGPRS 900/1800/1900), is billed as a blend of smartphone, phone, camcorder and PDA (a "smartcamPDAphone", if you will).
It's quite a chunky beast, dominated by a wide, (640×320-pixel) high-quality touch screen with 65,536 colours.
But they've stuffed a lot in there: the device includes a full Internet browser (with Flash6 support), an integrated music player with stereo audio, video playback, streaming and recording, a megapixel camera (1152×864 pixels) with 2x digital zoom and FM radio with Visual Radio client.
There's up to 90 MB internal memory available to users, and its memory slot can accommodate anything up to a 1 GB MultiMediaCard (MMC).
Naturally, such a smartypants device comes with an extensive suite of personal information management software, with support for real-time push email, an antivirus and a VPN client.

Depending on the sales package, some mobile media applications and services will be pre-installed on the 128 MB MMC, including Mobipocket Reader. This e-book reading application, already popular on Palm/Pocket PC platforms, gives the user access to thousands of titles including current bestsellers.
Bloggers are supported by Nokia's Weblogging mobile feature. This lets users instantly publish their (sick bucket please) "life experiences" on the Web, adding pictures and text from their Nokia with ease.
The Nokia 7710 runs on top of Symbian OS with handwriting recognition and pen input. The connectivity options for the Nokia 7710 include a Pop-Port connector with USB and Bluetooth wireless technology for data transfer and PC synchronization.
With other applications available from third party developers (such as Time Out City Guides and the powerful WorldMate weather/traveller program), this sees Nokia shoving their size nines into the competitive world of PDA/smartphones.
It's a fantastic package, but we will wait and see how it competes with the highly-rated Palm Treo 650 smartphone, which is expected to be released in the UK shortly.