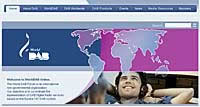 In an announcement apparently penned by a writer playing buzzword bingo, the WorldDAB Forum promises to demonstrate "the growing synergy between DAB digital radio and mobile technologies".
Reading between the acronyms and industry double-speak, let us translate. DABsters are getting pretty darn excited about the future and in our view, rightly so. The possibilities of using the data segment of DAB (Digital Audio Broadcasting) to economically send out data to large groups of people has a huge potential.
Following the tremendous growth of DAB digital radios in UK homes (over a million units sold), and sales of audio products growing across Europe, the telecom industry is looking to get a slice of the action.
With the ability of DAB chips to be integrated into new mobiles (or added by software tweaking to existing handsets), telecom operators are being enticed with the prospect of increasing their ARPU (that's 'Average Revenue Per User' to normal people).
And what better way to get their ARPU soaring than by developing DMB (Digital Multimedia Broadcasting) technology to use the DAB platform?
Within the industry they discuss such things as "early investment offering operators the opportunity to position themselves strategically and gain a market advantage for the future" as well as enthusing about "DAB offering audio and video streaming over DAB based on both MPEG 2 transport streams and IP".
Or to put it another way, the new technology will allow telecom providers to transmit television, video and data to mobile devices alongside existing DAB radio services and charge punters for the privilege.
The market is large. There's already a well established DAB network infrastructure reaching 80% of Europe, with over 600 DAB services capable of reaching 330 million people in 40 countries.
LG Electronics has already launched the first DMB mobile and several countries in Europe are already lining up to start DMB trials as early as Q2 2005.
The technology sounds great. When we hear more, we'll attempt to translate it into English again.
If you fancy a weekend talking in acronyms, pop along to the World DAB forum, Hall 5, Stands M42 – M56 at 3GSM 2005, February 14 – 17 in Cannes.
WorldDAB Forum (PDF file)