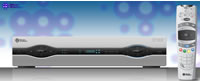 Following the release of their Video On Demand (VOD) service earlier this week, UK cable company, Telewest, has announced that they are to offer a PVR later in the year.
The signing of the deal with Scientific-Atlanta will provide them with a PVR featuring three tuners, enabling the recording of two channels while watching a third. Coming with a 160Gb hard disk, Telewest are quoting a recording capacity of 80 hours.
When we spoke to Telewest on a more exact release date, they said it would be second half of 2005. Pressing a little harder, they said they hoped it to be the third quarter.
Given the date of the release isn't firm, neither were Telewest's answers to our more detailed questions, but here's what we got. If subscribers take the service, the PVR will be a replacement for their current STB.
It will be a Personal VR rather than a Digital VR, as customers will be able to link the recording of series, as possibility more – at this time undecided.
The existing Telewest service offers a 24-hour Electronic Programming Guide (EPG). They're currently saying that they don't know if this is to be extended or not. To us it would be pretty bizarre if it didn't go to at least a 7-day service – filling up your 80-hour hard drive in a single 24-hours would take some doing.
The price of the box remains undecided. Internally they haven't decided if there will be a one off fee or if they will continue with the current arrangement for their Set Top Boxes (STB), rental.
The PVR will feature as standard high-definition TV (HDTV) support, not that Telewest has HD at the moment but they say it's coming "in the future". While we assume everyone will eventually be delivering HD, we would have thought that if they're paying for a HD capable box, they're likely to be supporting it soon.
Eric Tveter president and chief operating officer at Telewest Broadband said "Telewest Broadband's unique combination of personal video recorder and television-on-demand services will mean our customers have the best of both worlds — freedom from the TV schedule with PVR control, and on-demand access to a wider selection of movies and TV content. It's not about offering people more TV, but giving them the freedom to watch exactly what they want, when they want."
Right on Eric.