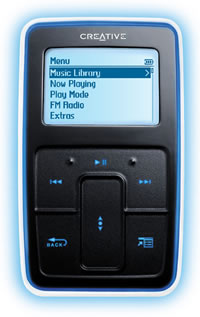 The word has been going around that Creative Labs intends 2005 to be the year that they unseat Apple as the major supplier of music players. They reported selling 2 million in the last two months and certainly, with the growth of digital music, the prize for success would be large.
Some of the details of Creative's marketing plans are now starting to surface by way of UK sales house Emap advertising.
They're putting a considerable amount of money behind the campaign, with £3m being muted by Brand Republic (reg. req.). Not only will it run over 13 channels, but Emap's in-house creative team is making a 70-sec video that has three different endings, targeted at the pop, rock, and urban audiences. The channels are owned by three different operators (Emap, Sky, and Chart Show) and representing 60% of the music channels available to UK Sky satellite viewers.
By attaching themselves to TV music channels that their 16- to 34-year-old target audience watch, they're hoping for 'cool' association, as well as being permanently in front of them.
The campaign will focus on the 5/6Gb Zen micro player which, in our view, has the looks to become an object of desire.