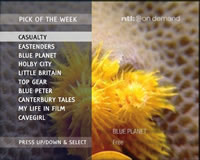 Today ntl turned on its much-anticipated Video On Demand (VOD) service in Glasgow.
Accessible to all Glaswegian ntl subscribers who have the digital TV service, it features free and paid for content including advertiser-free children's programmes, a 'Pick of the Week' option showing a selection of top shows from the previous seven days, a film service, a music video jukebox service, and adult content.
No new equipment is needed at the subscriber's house, as the software in their current Set Top Box (STB) is automatically updated.
The content is accessed either by pressing the On Demand button on the remote control or by pressing the Red button while watching one of the promotional channels.
The Pick of the Week channel will be provided by the BBC in a six month initial trial. The editorial decision of what is included will rest with the BBC, and it's expected that a range of shows will be available, including favourites (not ours) such as Eastenders. Each show will be available for seven days from its transmission and it'll be free to access.
The viewer will have the option to pay for content too, giving then 24 hours access to the content. The cost of the items will be added to their monthly bill.
The film service is supplied by FilmFlex, a separate company run by On Demand Management in a joint venture with Sony and Disney, with "Hundreds of titles, current and classic" films available from 50p to £2. Out of general interest, On Demand applied for the FilmFlex trade mark back in September 2004.
Over 30 hours of Children's advertiser-free programming is on offer for 20p-50p. Music videos can also be paid for (range 20p-£1.50) with over 35 hours available.
The high price ticket at £7 and largest number of hours of content (over 50) available goes to the Adult content supplied by Playboy.
Coincidentally, Glasgow was also the city chosen to launch ntl's digital TV service back in May 2000. We imagine that the number of subscribers is manageably low (we did ask for actual numbers but, "this isn't broken out"), giving ntl a chance to observe the performance of the system and gather feedback, before spreading it around the UK.
ntl are saying they plan to roll it out regionally over the UK during the next two years and all of their 1.4 million Digital TV customers will be able to receive the service. When we asked about the number of non-digital customers, we were told it was in the single percentage figures, possibly as low as 2-3%. Although asked, they decided to keep the order of the planned rollout cities to themselves.
In a statement Simon Duffy, Chief Executive Officer of ntl, said, "VOD is TV the way it's meant to be."
Telewest also launched a VOD service today, Homechoice have offered VOD in London and KIT have also been providing VOD in Kingston-upon-Hull for a number of years. ntl
On Demand management