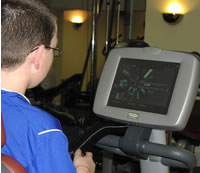 Back at the tail end of last year, Liverpool City Council installed gym equipment with Sony Playstation games consoles fitted to them, in an effort to induce the local youth to come to the gym.
At the time, Councillor Warren Bradley, Executive Member for Leisure was quoted as saying "By fitting television screens and games consoles to the equipment, we will be able to show children that they can combine their favourite activity with exercise. And by teaching children about the positive benefits of exercise."
Why are we mentioning today? The Sun, a well known tabloid "newspaper", is running a brief story and editorial comment about it today, deriding Liverpool council spending money on Playstations in an attempt to encourage children into gyms.
Over the two years since we first discovered the Reebok CyberRider, we've written about devices that connect games consoles to exercise machines and have been keen on them. The connection of physical input to video games seems like a great area of growth and it's certainly true that in those two years there have been lots of interesting developments. Sony and Nike MotionWorks have got together recently to bring EyeToy Kinetic to market in autumn 05, combining the camera add-on for the PS2 with fitness software.
We spoke to Donald Hurst, Operations manager of sport and recreation service at Liverpool City Council to get the accurate details on the story.
The equipment that they're using, supplied by TechnoGym, includes running a treadmill, rowing machine, and cycle. The four machines that they have working at each of their Lifestyles fitness centres at Peter Lloyd, Everton Park and Garston have been particularly well received, both by the children and adults.
It appears particularly popular at the Garston centre, which has 2,000 members and is their busiest site, with the staff receiving quite a number of positive comments from children's parents.
Keen children are given an introduction session which runs between 4 – 5:30 daily and are then free to choose from a selection of 30 games supplied by the venue. Hurst said they've made the decision to currently not let the children bring in their own games, so they have some control over the type of game being played. Once the game has been selected it has to be setup by the fitness instructor.
Hurst put some comparative usage figures together for us that show usage by young people has gone up by 15% over the same period last year since the Playstation had been introduced. He also told us that there is a growing interest from adults to use the equipment as well.
While Liverpool hasn't yet gone the whole hog of direct connection between physical input and the games, we think it's a good start. The increase in attendance figures also point in that direction.