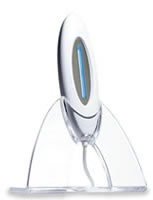 Wow, Griffin Technologies are busy. Following a flood of announcements from them in the build up to MacWorld including the SmartDeck iPod cassette adaptor, they've just announced RocketFM.
Building on their idea of transmitting iPod music to FM radios, RocketFM is a USB FM Transmitter for PC or Macintosh that takes the sound from your computer to an FM radio that you might have knocking around.
The software that comes with it, lets the broadcasting frequency be chosen by the user, to avoid clashed with your favourite stations.
Costing $39.95 it will starting shipping in the US in the first quarter of 2005.
Different countries around the world have different rules on the use of this type of device. Quite a few countries in Northern Europe, including Sweden, Austria, Iceland and the UK, don't like you broadcasting on FM, no matter how weak the signal.
Ofcom, the UK super regulator, has been very clear about their dislike of such devices, like iTrip. It contravenes the Wireless Telegraphy Act of 1949 and use of one in the UK could in theory be met with the maximum penalty of two years in prison.