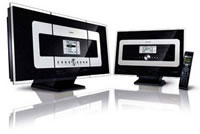 Philips used to strike us as a funny old company. They've been tremendously innovative. They had, after all, been a key players in the creation of many pieces of consumer technology; compact cassette; CD; DVD, but their products often looked like a dog's breakfast.
About 18 months ago we noticed a change, as their design started becoming more "with it" (as I believe they used to call it in the '60's).
At CES last week they showed their Wireless Music Centre, WACS700 to the crowds. It doesn't look too shabby, reminiscent of Kubrick's 2001: A Space Odyssey (which may sound confusing that a film released in 1968, set in 2001 should look modern in 2005, but the films styling is near-timeless).
Equipped with a 40GB hard drive and its own 802.11g (54 Mbps) networking, it's able to wirelessly stream music around your house to up to five satellite units. 750 CDs of music can be loaded on to it using the built in CD player or via the Ethernet port, which is also used to pull down information on the ripped CDs from the Gracenote CDDB database.
There are a couple of features that make it of particular interest.
It comes complete with a two-way remote control, which cunningly displays the currently playing track, as well as allowing the navigation your music.
The master unit has slim, built-in speakers using Philips Super Sound Panel Speaker technology, a nifty space saving trick to uniting tweeter and woofer into a single unit.
Satellite units can be configured for playback in a number of ways. Separate music can be played on each on; the same music on each (this is harder than it sounds due to fractional speed difference in wireless packet delivery) or a follow me feature that lets you take your music from one room to the next as you walk between rooms.
Available in the US from April 2005, the WACS700 will have a suggested retail price of US$999 including one satellite unit. Additional satellites will cost between US$200 and US$250. We're waiting on Philips to find out European availability and pricing.