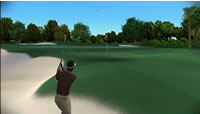 Today Electronic Arts (EA) used CES to announce its line-up for the US launch of Sony's handheld entertainment system, the PSP due in March.
The six games are FIFA Football and MVP Baseball, (only available in the US and not in the UK) along with four previously announced franchise greats; Need for Speed Underground Rivals, Tiger Woods PGA TOUR, NBA STREET: Showdown (working title) and NFL STREET 2: Unleashed.
EA say each game has been specifically designed for the PSP, as they found that trying to port the games didn't work visually and they wanted the handheld titles to take advantage of the unique PSP functions such as WiFi head-to-head game play. To create the games, EA created the very dramatic sounding Team Fusion.
More details of the games are on their dedicated PSP site. It has some screen shots of the games which looks most impressive.