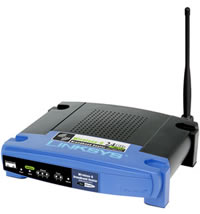 Linksys' consumer and small-business oriented Wireless-G Broadband Router is unusual in the way that it offers four devices in one box: a Wireless-G access point, built-in 3-port switch to connect wired Ethernet devices, router so that multiple users can securely share a single cable or DSL Internet connection, and two standard telephone jacks (each operating independently) for carrying Voice-over-IP (VoIP) calls. It also comes with Vonage's Internet telephony service, so you can start making high-quality low-cost phone calls over a broadband connection out of the box – even when you're browsing the Internet.
With the added Vonage service, US-based users should get low domestic and international phone rates, Caller ID, Call Waiting, Voicemail, Call Forwarding, Distinctive Ring, and lots of other available special phone features. You can also choose any free local dialling US area code, regardless of where you live, add a virtual phone number in any area code, or even a US-wide toll-free number. Vonage offers price plans ranging from $15 to $50 a month, depending whether you want primarily local or long distance calls, how many inclusive minutes you want, and whether you are a consumer or business buyer.
"Recognising the need for residents and small businesses to have myriad of options when setting up their networks, Vonage is excited to partner with Linksys to continue to lead the way in transforming how people communicate," stated Jeffrey A Citron, chairman and CEO of Vonage Holdings Corp. "More importantly, the Wireless-G Router bundled with Vonage's service is the next step in modernising an archaic telecommunications network. No longer will people be stuck in the past and tied down to communications systems that fail to offer true mobility."
"By providing customers with both the hardware and service they need to make high-quality phone calls over their broadband connection, customers get a better overall value and user experience," said Mike Wagner, Linksys director of worldwide marketing. "Marketing the product and service together enables us to educate more customers about the benefits and cost savings VoIP can provide."
Other key features of the Wireless-G Broadband Router (54 Mbps), with the oh-so-catch name of Linksys WRT54GP2, include support for Session Initiation Protocol (SIP), along with a range of voice compression algorithms with echo cancellation, DTMF tone detection and generation. It can also handle FSK and DTMF caller ID, and FSK voicemail. There's also 256-bit encryption and support for both Wired Equivalent Privacy (WEP) and Wi-Fi Protected Access (WPA), and the router can serve as a DHCP server, has a built-in SPI firewall to protect your PCs against intruders and most known Internet attacks, supports VPN pass-through, and can be configured to filter internal users' access to the Internet.
US buyers will also get a $50 rebate slip that they can use against the Vonage service after their initial 90 days of service.

:SP: Vonage are pushing hard to expand their VoIP offering. They are spending large amount of money on advertising in the US (rumoured to be around $88m), and now, with this tie-up with Linksys, taking it directly to consumers who are buying broadband equipment. The support for both WiFi and SIP leaves the door wide open for expanding in to wire-free calling too.