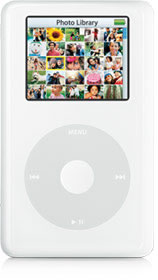 Apple's much anticipated and predicted new iPod – iPod Photo, launched late yesterday, has moved into the multimedia realm, allowing users to view and share photos as well as the normal music play back. The new iPod Photo can hold up to 25,000 pictures and can be connected to a television to play video slide shows. The 40-gigabyte version is priced at $499 (~£272) and the 60-gigabyte model is priced at $599 (~£326).
The new iPod features two Apple patent pending features – Click Wheel and Auto-Sync technology that automatically downloads an entire digital music library onto iPod and keeps it up-to-date whenever it is plugged into a Mac or Windows computer using FireWire or USB.
Separately there is the special edition 20GB U2 iPod as predicted by Digital Lifestyles earlier this month, which is … shock, horror … black with a red wheel!  Its is part of a larger agreement between U2 and Apple, whereby Apple will have exclusive rights to sell all the songs from the band's new album online through its iTunes Music Store for at least the first few weeks following the release.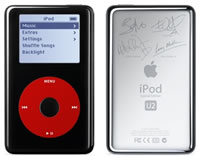 The U2 iPod is expected to be available mid-November for a suggested retail price of £249 (~$456) through the Apple Store, Apple's retail stores and Apple Authorised Resellers. IPod TV adverts showing U2 were shown on UK television this evening.
The timing of the U2 iPod release coincides with the immanent release of U2's new album "How to Dismantle an Atomic Bomb", and "Vertigo," a single from the album is available exclusively in the US through the iTunes Music Store. 
A "Digital Box Set" offering from Apple called surprisingly, "The Complete U2", apparently the first of its kind, will contain over 400 tracks including all of the band's albums and over 25 rare and unreleased tracks.  These can be downloaded from iTunes in the United States and Europe from late November for $140 (~£76).
There are challengers to iPod's throne though.  Would be kings include Dell Inc.'s new Pocket DJ, Virgin Electronics' Player, Creative Labs Inc.'s Zen Micro, iRiver America Inc.'s H300, and Archos Inc.'s Gemini XS200.
Notwithstanding, analysts estimate the company could sell close to 3 million iPods this Christmas, so Apple can sing for this year anyway, "It's good to be the king!"