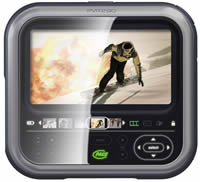 Pace, UK-based supplier for TV-focused technology, announced what they claim is the world's first mobile personal video recorder of payTV.
The 40Gb device, which enables the downloading of protected TV content, has an interesting and innovative approach to the display. The device will feature two screens, a large high quality and resolution screen to display the content, with a secondary, smaller strip of screen underneath it that is used for navigating the content. The normal approach to this would be to use a large high quality screen, but in discussion with their Director of Technology, David Gillies explained that Pace would get significant financial saving using this approach.
The upper high-resolution screen will be a new range, supplied by Samsung, using one quarter of the power a currently available equivalent. Using 'clever new battery' technology and other power saving features, the battery life of the device will be at least 3 hours – more than long enough to watch a feature film.
Unsurprisingly it will also have the ability to play audio files and view photos. One unexpected feature is the ability to play games, the make up of which we assume will be dependant on which OS is installed.
On the OS question, we were told it would be soft, depending on who the operator customer is. If some purchasing operator has a Set Top Box (STB) with a defined look and feel or EPG, this can also be ported, extending the payTV operators brand to their viewers hand.
Although a fully working demonstrator was not available, they were showing a version, using the older screen, displaying video content. Given an order, Neil Gaydon, Worldwide Sales and Marketing Director told Digital Lifestyles that they could have it in the market "within six months".