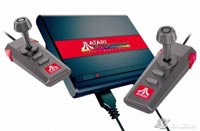 It's been some time since Atari last brought out a game that was actually worthy of the brand. The Atari logo you see on games now is just that – a logo. Infogrames bought the name a few years ago to add credibility to their business, and the Atari of the 00s has nothing to do with the proud days of the 80s with Nolan Bushnell and (sniff) Crystal Castles.
Atari are to release a new console – well, it's actually an old one, a 2600/7800 hybrid with two dozen games from the the platforms' heyday. Called Atari Flashback, the console plugs directly into your television and has two two-button, joystick controllers.
The Atari 2600 games are Adventure, Air Sea Battle, Battlezone, Breakout, Canyon Bomber, Crystal Castles, Gravitar, Haunted House, Millipede, Sky Diver, Solaris, Sprintmaster, Warlords, Yar's Revenge, and a previously unreleased title, Saboteur. The Atari 7800 games are Asteroids, Centipede, Desert Falcon, Food Fight, and Planet Smashers.
The company will also be releasing Atari Anthology, yet another collection of back catalogue titles for PS2 and XBox, featuring 85 games from the company's history, with some superflous gameplay modes such as "Trippy" and "Double speed" . There have been a few Atari collections released lately, this seems to be a super-set of them with Gravitar and Battlezone being amongst the previously tricky to find titles.
Now that the company has fully leveraged their old IP, how about some shiny new games that are worthy of the Atari name?