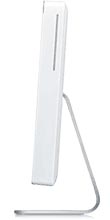 Apple have unveiled their new G5 iMac, with a radical break in the series' all-in-one design. The iMac now comes in a 20" and 17" TFT format – and the whole computer is built into the screen, making it just 2" thick.
"Just like the iPod redefined portable digital music players, the new iMac G5 redefines what users expect from a consumer desktop," said Philip Schiller, Apple's senior vice president of Worldwide Product Marketing. "With the entire system, including a gorgeous 17- or 20-inch display, just two inches thin, a lot of people will be wondering 'where did the computer go?'"
17" models come with 80 GB of disk, 1.8 Ghz processors and a SuperDrive or 1.6 Ghz chips and a combo CD-R/DVD drive. The 20" model has a 160 GB disk, a 1.8 Ghz processor and SuperDrive. The rest of the specifications are the same: 256MB of RAM, Firewire, GeForce FX5200 graphics cards and ethernet.
If you need more power, then you can specify up to 2 gig of memory and a 250 GB hard drive when ordering.