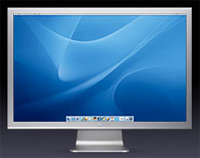 Apple's cinema displays have always made Macintosh fans (and indeed most people with eyes) go weak at the knees. This time, though, they've excelled themselves with a new 30″ display that is truly beautiful.
With an anodized aluminium surround, the 2560 x 1600 pixel display will match your G5 beautifully and set you back US$3,299 (€3,859 in the European Apple Store). You could conceivably plug it into a PC, but that's just wrong and you know it. At just 0.08 cents per pixel, they obviously represent fabulous value for money.
There are two other new models in the range for us lesser mortals – the 20" and 23" inch displays will set you back US$1,299 and US$1,999 (€1,519 and €2,339) respectively.
All of the new displays have built-in USB and Firewire hubs so you can arrange what's left of your desk neatly. They can also be wall mounted, but this might just encourage people to poke them with their grubby fingers and gasp.