Nokia has high hopes for a new service that sends images and information to mobile phones, synchronised to a FM radio station.
---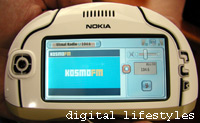 A new revenue stream
Mobile phone manufacturers and network operators are developing more and more virtual products for their subscribers – ringtones, wallpapers, games, music, you name it. The favoured charging model preferred by networks is a little but often, hence subscriptions to text alerts, music downloads and other services that extract small amounts of cash from users repeatedly, over a relatively long period.
Given the age of many phone owners, music is an important part of their lifestyle, and so consumes a fair chunk of disposable income – this is what prompted manufacturers to converge the mobile phone with the radio. Whilst it's certainly handy, there was always an air of missing potential about having a mobile with a radio – two communications streams that didn't meet up: until now, that is.
Radio met GPRS – and Visual Radio was born.
Visual Radio (VR) is a traditional radio broadcast, backed up and accompanied with information, photographs and graphics displayed on a compatible mobile phone. Handset owners can see immediately what track their favourite radio station is playing and explore more information about the artists, or see what's coming up next. You can all see the potential for album promotions, competitions and quizzes – and advertising. The service can also be used to sell ringtones and logos – other micropayment-sized virtual goods popular with network operators.
Nokia describes the basic service thus: "You will never again have to wonder WHO is playing WHAT on radio – now you can get detailed information on any piece that is being played. During the news you can SEE what they are talking about, weather reports can now show you the maps and tables of sports results can easily be viewed. Entering the middle of a talk show, you can see what has been discussed so far and what is coming up next. Valuable business news or urgent news alerts can be received at any time onto your screen without having to interrupt the broadcast over the air."
It also enables radio stations to interact in new ways with their audience – by allowing listeners to vote on popular topics, and getting input from people who perhaps would never phone into a show, but would like to interact nonetheless.
VR is currently available on the rather odd looking Nokia 7700, but the company intends to release more compatible handsets in the future.
How does it work?
The system itself is extremely simple: Visual Radio runs in parallel with a traditional radio broadcast, and is transmitted to the user's handset via GPRS.
A reasonably informative and immersive service can be transmitted in about 200 kilobits per hour, but can vary enormously depending on the amount of graphics used on the service.
The attractive part here is that there's no additional subscription for the end-user to have to buy into or extra payment system – she just pays for the GPRS data on her mobile phone bill as she would normally.
The service is currently only available for FM broadcasts, but there's no reason why it can't be deployed for AM stations, and indeed Nokia are exploring this.
Nokia has selected HP as its technology partner to bring VR to the market. HP sells the solution to mobile operators and FM radio stations worldwide, as well as provides installation, consulting and integration support. In addition, HP hosts and manages the VR service using standards-based HP platforms.
The VR application is part of the phone software, embedded in the handset's hardware, and is not a downloadable application. This strikes me as odd: why not make it a Series 60 application and therefore deployable to all Series 60 phones with FM receivers?
What does it take to produce a Visual Radio feed?
VR is basically an XML feed sent to the phone's browser through a standard GPRS connection. It's simpler than HTML – there are fixed regions on the phone's display, and certain content types can only go in those regions. By positioning objects relatively on the screen, similarly to web stylesheets, pages can scale to suit phones with different sized displays.
Graphics are highly optimised, and the preferred format is PNG, keeping button sizes, for example, down to typically less than 1k.
One page of VR, or slide, can be less than 3k in data.
Pages are extremely easy to create, and the process doesn't get in the way for producing imaginative content – keeping punters interested beyond the novelty stage will be the tricky part. No special tools are required – once the basic templates are worked out, the station (or a third party) can use use an off the shelf package like Dreamweaver to layout pages.
The pages are also timecoded – so that the content is synchronised with the broadcast, images are cached to the phone so that slides are complete and ready when a song starts.
Once the VR pages are produced, they are sent via the internet to a hosting centre operated by HP, and then sent to network operators who transmit them to handsets, on a region by region basis.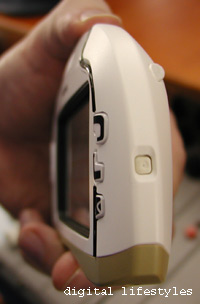 What's the business model?
VR is essentially a low bandwidth sales tool. VR users pay for the GPRS data they download – and hopefully buy ringtones and other products advertised on it. The network operator also splits the money made from the GPRS streams with the radio station responsible for the broadcast. The radio station also has a new channel to sell. advertising on.
Sophisticated monitoring facilities are built into the service: the network operator can see how many "listeners" are tuned into the visual radio stream at any one time – providing valuable metrics for the radio station and its advertisers. This also enables the broadcaster to vary the amount of bandwidth and other resources deployed in response to demand.
Where is it?
Visual Radio is currently being transmitted by Helsinki's KissFM station, and is available to TeleSonera subscribers.
Nokia has a chicken and egg situation here – it needs to sell the idea of Visual Radio to broadcasters as a popular service, but it also needs a range of content to entice users to take part. So far, uptake from both broadcasters and the public is disappointing – but it's early days.