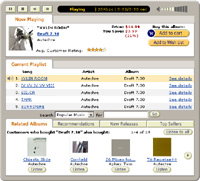 Amazon.com have quietly rolled out a nifty new music preview feature, allowing much more convenient previews than before. The site's erstwhile preview system was always a bit hit and miss, lacking in some obvious functions, but the new system, comprising of a pop-up box control panel with more than a whiff of iTunes about it is much better and demonstrates that it's not just the better download sites that allow you to try before you buy.
The new feature makes it mush easier to browse music samples and discover artists and tracks that you might like, with all the pertinent information and links near at hand. Tracks from albums are queued up and played in order, so you can get a feel for a whole albums without having to budge.
The Preview section has been reorganised, with the new Amazon Music Sampler coming first – clicking on a link opens up the preview window. Customers can now jump between albums by the same artists, or even samples of recommendations and top sellers, from the same window. For convenience, the Add to Basket button is never too far away.
Samples are streamed to your PC without firing up an external media player, and most samples are 20Kps quality-wise.