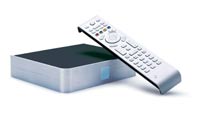 Video Networks have launched the latest iteration of their HomeChoice service, available in the UK from 1st June.
The basic package includes 1mb of broadband (capped at 1gb per day downloaded – about 20,000 light web pages or 200 mp3s), more than 60 TV channels and a video on demand service. Films available on the on-demand service cost between £0.99 and £3.50 (€1.47 to €5.19) for the standard 24 hour rental.
The TV channels available are an extension of the standard Freeview fair, and include channels unavailable on Freeview such as E4, Discovery, CNBC Europe, UKTV Style and UKTV Gold. The are also some music offerings exclusive to Video Networks such as V:MX Hits and V:MX Dance. Interestingly, the service carries Club Zebra – a sort of exercise on demand (EOD – you heard it here first) channel where you can interact with keep fit and health programming.
The broadband component of the service can be upgraded to 2mb for an additional £15 (€22.26) per month – this takes the download cap to 45gb a month. The HomeChoice box comes with an Ethernet port in the back for connecting to your home network, but a rather smart wireless option is available for an extra £125 (€185.53). Including an Ethernet port makes the service a true competitor to existing broadband services. Beforehand, HomeChoice was really "VOD with broadband", as the broadband connection from the box was USB: this iteration is more "broadband with VOD and content", a much richer and flexible offering.The service is initially launching in West London to those with a BT phone line.