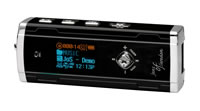 The latest MP3 Flash-memory music player from Jens of Sweden has just been announced (so recently that they don't have English details available). The stylish devices has all you would expect from a mini-MP3 player, currently up to 512Mb of storage, record function dictaphone and FM-radio. Amazingly this little beauty weighs the same as eight sheets of A4 paper.
The unexpected features start with a mirror finish for use when it's not on. When it is on, the multi-coloured organic LED display shines through the mirror and interestingly it has a clock and alarm built into it. The other surprise is the addition of support for Ogg Vorbis, the open, patent-free audio encoding format that is the preference of the tech-savvy. Jens have improved the battery time over the MP-100 to 18 hours and can drive big headphones.
We've spoke to Jens and they tell us that there is a 1Gb version coming out in June. The recommended ex-VAT UK prices are 128Mb £105, 256Mb £145 and 512Mb £190, which should be slightly cheaper in store.
Sadly they are only supporting USB1.1, not USB2.0, which would significantly reduce the speed music could be exchanged with it.
We at Digital Lifestyles office are fans of Flash MP3 players, given their unnoticeable weight during commutes. Longer journeys demand hard-drive-based players.