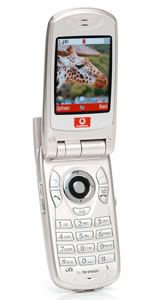 Vodafone has beaten the rest of the market to be the first to bring a mega-pixel camera to Europe. In a further development of their relationship with Sharp, it will be Sharp GX30.
Not content with being just a mega-pixel camera, this quad-band (GSM) phone of many features incorporates an MP3 player, offers Bluetooth support, has a removable SD memory cards and provides video message functionality. The screen on the handset has been significantly uprated to be capable of displaying 262,144 colours, four times its previous model, the GX20. It will be available in retail stores from March 2004.
Breaking the mega-pixel barrier is significant. At this resolution the photographs start to become useful beyond simply sending them other phones. The quality is sufficient to print them out and services such as Pixology (We QuickLinked earlier), are planning to take advantage of the always increasing resolutions.
The other direct benefit for Vodafone in higher resolution cameras' becoming the norm is in increasing their call income – the higher the resolution, the more data there is to transmit, the higher Average Revenue Per User (ARPU). Raising ARPU is the mantra for mobile operators.
Vodafone's global presence means it has tremendous clout and purchasing power enabling it to secure exclusive deals with phone manufacturers. It is known in the industry that Vodafone is keen to develop its own, branded phones in an attempt to break the power of Nokia on the phone market. They want to move their users from identifying with the make of handset, "I've got a Nokia" to "I've got a Vodafone". Extending the relationship with Sharp is a further step towards that.