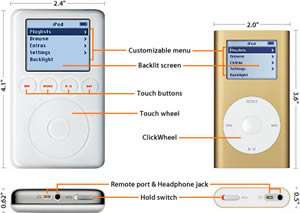 The rumours of the mini-iPod have been proven as true with Steve Jobs announcing a small version of the iPod, the iPod mini at Macworld yesterday.
The smaller-than-current-iPod device will have an anodised aluminium body available in five colours; silver, gold, pink, blue or green and be capable of holding 1,000 128-Kbps AAC encoding, CD-quality songs on its tiny hard drive. It will also only weigh 3.6 ounces (102 mg).
The iPod mini runs the same software as current iPods, so no functionality is lost, despite its slight smaller backlight LCD screen (1.67 inch vs 2-inch and 138-by-110-pixel resolution, 0.22-mm dot pitch vs 160-by-128-pixel resolution, 0.24-mm dot pitch). In a further refinement to the design, the four buttons have been integrated into the touch wheel – Apple labels it Click Wheel.
Recharging times will be the same as the current model, but the mini will be able to pull its power from either the FireWire or USB 2.0 cable.
It will be available in the US in February and worldwide in April with a suggested selling price of $249 in the US and a UK price of £199 (inc VAT).
Apple also announced they have sold two million iPods and by way of a celebration they also announced that they will be upgrading the smallest capacity from 10Gb to 15Gb without increasing the price.