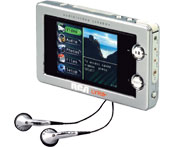 Giant media group, Thomson, has announced the launch of a portable multimedia player that has 20Gb of hard drive storage and a built in colour screen which plays videos, show photographs and plays music. Sold in two guises, Europe (THOMSON LYRA Audio/Video Jukebox PDP 2860 – €749, ~£520) and USA (RCA RD2780 – $499.99), it will play back both MPEG-1 & MPEG-4 video and mp3, Windows Media Audio. It can also be upgraded to mp3PRO.
Depending on the compression used, Thomson claim the unit can hold up to eighty hours of video, which can either be played on its own screen  (3.5-inch Thin Film Transistor (TFT) LCD ) or displayed on a television set using analog composite leads. Alternatively the unit can either be used as portable computer storage, store up to 5,000 music tracks or 100,000 JPEG images. Images can be organized into slideshows to accompany the playback of music.
The content can either loaded via a computer (PC or Mac), using a USB 2.0 connection, or the unit can either record video; using it built in MPEG-4 encoder, and audio directly. When the unit encodes video content, forty hours of content can be stored.
Battery life is reported to last up to twelve hours when playing music but only four when playing back video.
The unit is pretty compact (5.31″ x 3.15″ x 1.06″, 13.5cm x 8.00cm x 2.70cm) and light (10.5 ounces, under 300g) and we suspect will seduce many enough to add it to their xmas list.