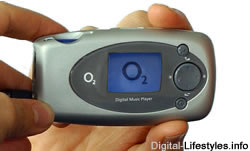 mm02, UK cellular provider, have launched the first European "over the air" music download service.
To use the service, prospective customers must buy a separate music player, the "O2 Digital Music Player" (O2 DMP), which connects to the online service through their mobile phone, either via an Infra-red port or a short cable. Once connected via GPRS, they are able to browse the selection of music, preview tracks and then purchase them. Previews are not charged for and take around 20 seconds to start to play, but when a track is bought, it is downloaded to the device, which takes around 3.5 minutes, the customer will be charged £1.50 (~$2.55, ~€2.15). While it does not look like good value when compared with what is the current industry standard of 99c, mm02's Kent Thexton claimed the price "fantastic value for money, for less than the cost of most ring-tones customers can purchase and own an entire chart track".
Siemens designed the DMP on behalf of mm02 and will also run the DRM-protected content aggregation and platform hosting.
The music is encoded using a CODEC called aacPlus, a combination of MPEG AAC and Coding Technologies' SBR (Spectral Band Replication) technology developed by the German company, Coding Technologies. They claim the compression can reduce the size of audio files by up to half. Given the limited bandwidth available on cellular networks, it is important that the files are as small as possible.
A wide range of handsets are compatible with the service, meaning that at launch, more than 1.2 million O2 customers can access this service.
The music content is being supplied by BMG, Universal, AIM and Warner Music and it is hoped that up to 100,000 tracks will become available.
Once downloaded, the music is stored on a 64MB SD Memory Card that slots into the device. Tracks can be played back on the O2 DMP or transferred to a PC using the Memory Card but will remain locked with their DRM. The DMP can also play back MP3's
mm02 are hoping for a good take up as in a previous trial of 300 UK and German customers, an average of five tracks per user per week were downloaded.