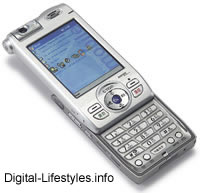 LG Electronics have unveiled their latest mobile phone, incorporating a PDA and 1.1 mega pixel camera which can record one hour of video.
The handsets (LG-SC8000, LG-KC8000), which incorporates the ability to record one hour of video, and edit photos, runs on Windows Pocket PC 2003 and has 192MHz of memory. It features a slide-down keyboard, helping to keep its size down, while maintaining a large screen size, 2.8 inch TFT LCD capable of displaying 262,000 colours. They plan to release it in Korea at the end of the year.
We feel this looks and sounds like a significant step forward in integrated mobile device design and can't wait to get our hand on one.