p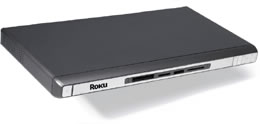 Roku Labs have for the last year been quietly developing products that connect to High-Definition TV's and their first device, the Roku HD1000, launches today. They claim it is the first digital media player to be designed for high-definition televisions and with a price tag of $499, Roku is targeting the high-end consumer, those already spending $3,000 or more on an HDTV set.
The HD1000 can play photo slideshows, video or music files from its front mounted built-in memory card slots (CompactFlash, MMC, SD, Memory Stick or SmartMedia) or, using either its built-in 10/100 Ethernet or optional WiFi adaptor, can play media files streamed from a PC or Mac.
You will have noticed that this is a recall only device – it has no ability to record. Many would expect that this device would come with a hard drive onboard, but perhaps because of the extensive and eventually fatal attention that ReplyTV got from its ability to record programs and skip adverts, this has been left for a later product.
Roku is trying a novel approach to encourage owners of large High-Def screens to treat them as picture frames or as windows to alternative location. To this end they are selling $69 memory cards filled with classic paintings, nature and aquarium images.
By keeping their overheads to a minimum, the company would break even by selling 10,000 units, but hopes to become profitable by selling at least 20,000 units within a year. Clearly a small market currently. They hope to gain additional income by its software to other set-top box and television makers and given the HD100 is based on an open Linux-based platform, they hope to encourage third-party developers to build applications for it using the published API.
Roku is lead by Anthony Woods, the creator of ReplayTV. ReplayTV was the first consumer grade hard disk video recorder to come to market, launching in 1999, a few months prior to the more widely known TiVo. Roku labs is not to be confused with Roku Technologies who have been developing peer to peer technologies.