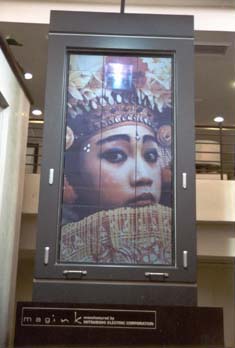 Magink have unveiled a low-power billboard in New York that uses digital ink to display a changing image.
The Magink billboard uses a paste of tiny helix-shaped particles, the orientation of which is changed by electrical fields. When the helix changes orientation, the amount of light reflected changes so they can be used to build up full colour images. Incredibly, the display can run at 70 frames per second.
With a dot pitch of 5mm, the technology isn't yet suitable for replacing paper (or even television), but it's an exciting step. Currently the display can handle 4096 colours and only consumes power when changing the image – like paper, it doesn't require a backlight.