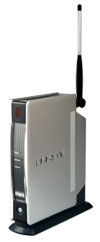 Tom Hardware reviews the Linksys WMA11B Wireless-B Media Adapter.
In the same vain as other Digital Media Adaptors based on the Intel reference design, this VHS cassette-sized unit connects to a TV set, Using the supplied remote control it allows the browsing and playback of photo's, music and video, that are held on your networked Windows PC, to be enjoyed through your TV screen. Interestingly, the serving machine has to be running Windows XP but can be connected either via cabling or using 802.11b, WiFi connection.
It's essentially the same functionalisty as Sony's Roomlink, but has the advatage that you don't need to buy a Sony Vaio PC to serve the content from. To date, Sony won't sell the serving software seperatley.
It's works with the mainstreem formats of media, but there's no mention of the Ogg Vobis, which is growing in popularity with computer audiofiles.
Their view of the product is that it's a good first stab. Street price should be around $149.